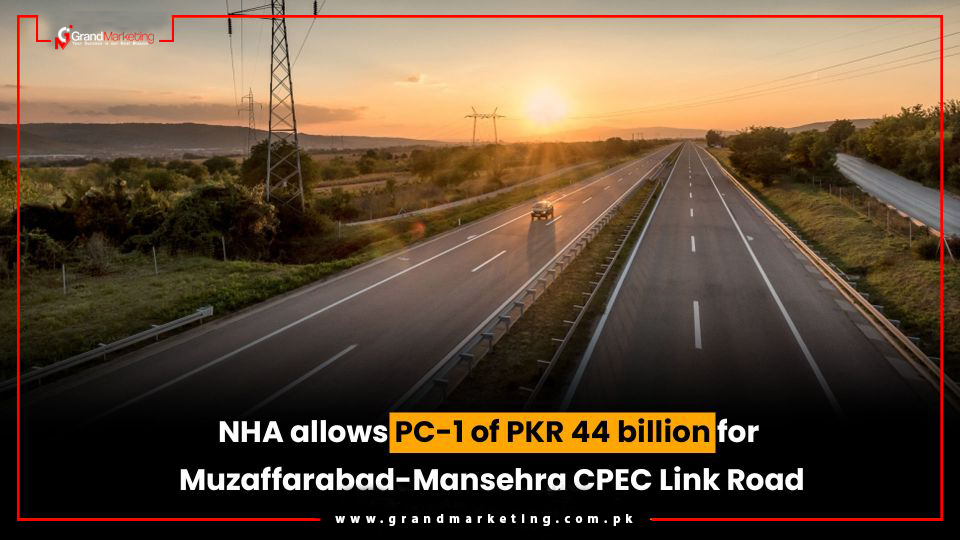 Islamabad: According to news reports, the National Highway Authority (NHA) Executive Board has sanctioned the Muzaffarabad-Mansehra Link Road Project Concept-1 (PC-1) at the cost of PKR 44.72 billion. The Central Development Working Party (CDWP) and the National Economic Council's Executive Committee will approve the initiative in its entirety (ECNEC).
According to reports, NHA Chairman Capt. (Retd.) Muhammad Khurram Agha presided over the board meeting, which authorized the 26.6-kilometer project under the China-Pakistan Economic Corridor (CPEC).
In addition, the board approved several other road infrastructure projects, including the 81-kilometer Shounter (Kel) to Rattu (Gorikot) Road cost PKR 61.162 billion PC-1.PKR. The 69.7-kilometer Sui – Kashmore Highway has a total of 28.396 billion PC-1."M/s Zeeruk International (Pvt.) Ltd. in JV with M/s Associated Consulting Engineers-ACE Ltd., M/s Prime Engineering & Testing Consultants (Pvt.) Ltd. and M/s Effective Engineering Expertise (Pvt.) Ltd." has been awarded a PKR 506 million consulting company agreement for construction supervision and review process of the Hoshab-Awaran-Khuzdar; Section of M-8 Project and Section-2 (168).
The board has approved M/s RMC-CLIC JV's request to extend the Peshawar Northern Bypass (Package-II) construction schedule to October 2022, at a cost increase of PKR 526.5 million. Work on a route connecting the CPEC Interchange and the Karakoram Highway has begun. A few adjustments to the second revised version also were authorized by the board.
For more news, stay tuned to Grand Marketing.