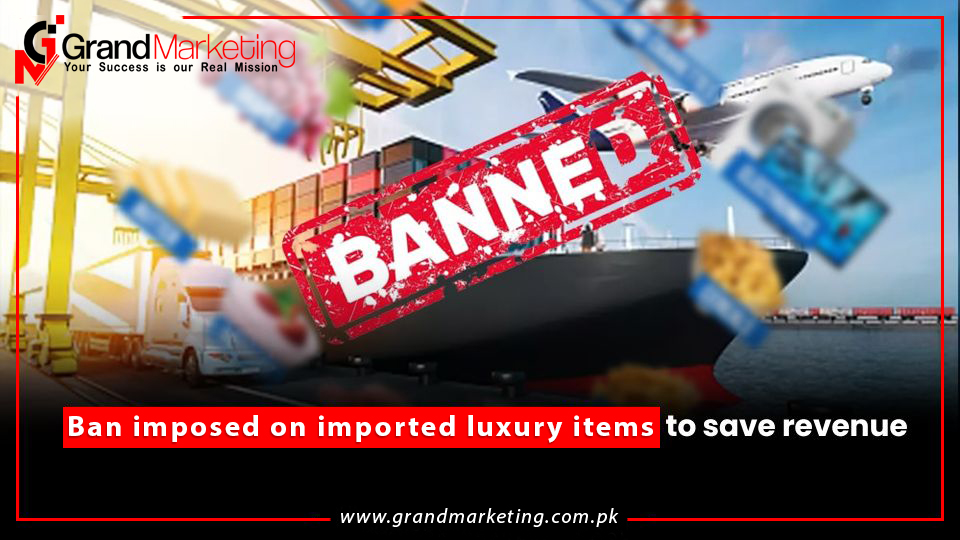 Islamabad: According to a news source, the federal government has implemented a ban on the import of luxury goods in order to preserve much-needed income and reduce the current account deficit (CAD). The tax restriction will apply to 33 product categories, saving up to USD 500 million every month in terms of goods imports.
According to reports, the government announced the ban on luxury imports amid a rising pay gap and the rupee's declining value against the dollar.
Prime Minister Shehbaz Sharif announced in a tweet on Thursday that " My decision to ban the import of luxury items will save the country precious foreign exchange."
We shall exercise strictness and the wealthier among us must take the lead in this effort so that the less fortunate among us are not burdened.
The ministry of commerce issued a four-page SRO598 in 2022 for prohibited commodities.
Banned Items List:
Food items, manufactured and CKD units, mobile phones, and confectionaries were among the 800 items banned, which fell into 33 categories.
Aerated water
Automobiles
Carpets (except Afghanistan)
Chandeliers and lighting (except energy savers)
Chocolate
Cigarettes
Confectionary
Cornflakes
Crockery
Doors and window frames
Fish and frozen fish
Frozen meat
Fruits and dry fruits (except Afghanistan)
Furniture
Headphones and loudspeakers
heaters, blowers
Home appliances
Ice cream
Jams and jellies
Juices
Kitchenware
Luxury leather apparel.
Luxury mattresses and sleeping bags.
Mobile phones
Musical instruments
Pasta
Preserved fruits
Private weapons and ammunition
Salon items like hairdryers
Sanitary ware
Sauces
Shampoos
Shaving goods
Shoes
Sunglasses
Tissue paper
Toiletries
Traveling bags & suitcases
Read More: Illegal residential societies banned from advertising on social media
Import Prohibition on Select Items Lifted:
Mobile phones and completely knocked-down (CKD) devices are exempt from the ban. Instead, the government has chosen to raise tariffs on both commodities in order to discourage imports. In the second half of Friday, the decision on the additional tariffs will be announced (May 20).
For more news, stay tuned to Grand Marketing.