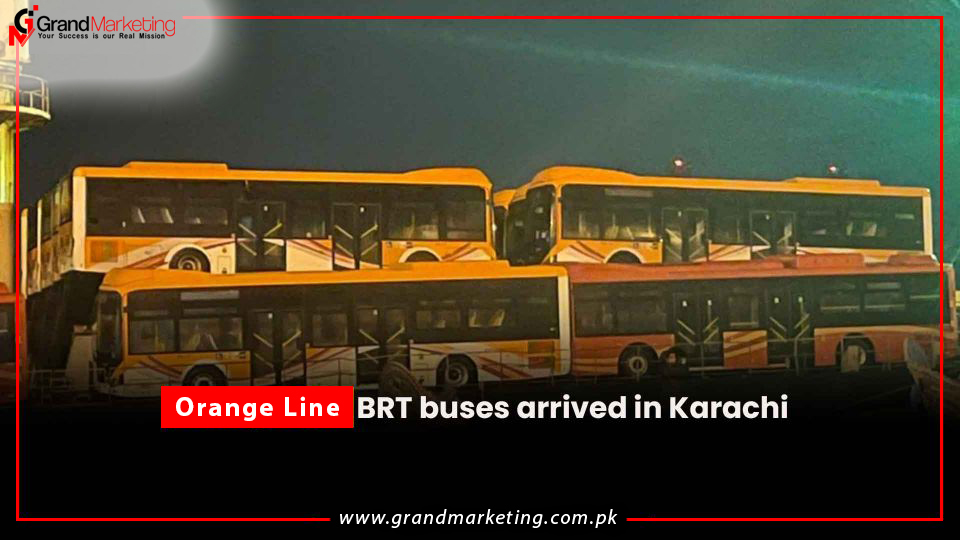 Karachi: According to a news report published on May 12, Sindh Minister for Information, Transport, and Mass Transit Sharjeel Inam Memon said that 49 buses for the Orange Line BRT and the Intra-District Peoples Bus Service have arrived in Karachi.
The remaining buses, according to the transport minister, are on their way and will arrive in the country in stages over the next month. The transport minister met with Sindh Infrastructure Development Company Limited (SIDCL) to discuss buses for the Orange Line Bus Rapid Transit, according to details (BRT). He said the buses would arrive at Karachi port on Wednesday (May 11) and would be moved to the depot a week later.
Syed Murad Ali Shah, the Chief Minister of Sindh, has reportedly asked the Karachi Mass Transit Authority (KMTA) to complete the remaining work on the Orange Line BRT project by the end of May. The CM hopes to get the bus service up and running by June 1st. He presided over a review meeting at which the transportation department briefed him on the bus service's progress. He was told that 95 percent of the 3.8-kilometer project had been completed.
CM Murad has asked Transport Minister Memon to expedite the project's completion so that it may be run with only 20 vehicles. The minister instructed that the drivers' training schedule be prepared as soon as possible. He directed that the National Engineering Services Pakistan Consultant install the IT system and monitoring system, as well as place signboards and repair docking rubbers.
The CM was also updated on the status of the Intra-District Peoples Bus Service. He was told that the National Radio and Telecommunications Commission (NRTC) will purchase 250 buses for the bus service, with 240 of them operating on seven routes in Karachi. In Larkana, the remaining buses will run.
For more information and details, visit our website Grand Marketing.