Blue World City Islamabad is the top-ranking housing society in Islamabad. It is developing by the Blue Group of Companies (BGC) in consultation with world-renowned Shan Jian Municipal Engineering Company and located right next to the Chakri Interchange & newly proposed Rawalpindi Ring Road.
Right now it is one of the most affordable housing projects in the area and has become quite popular among investors. For those looking to invest in a high-investment-return residential scheme, then this is the best option.
Blue World City is also providing online services such as blue world city verification, Online Installment, Certificate of registration online Verification, and Application Status.
Blue Group of Companies is the owner and developer of Blue World City (BWC). The owner of this society is Saad Nazir, Son of ex-Deputy Commissioner Lahore, Chaudhry Nazeer.
Grand Marketing is pleased to mention that Blue Group of Companies has signed a Memorandum of Understanding (MOU) with internationally recognized China-based Shan Jian Municipal Engineering Company to make sure and fulfill the promise of high-class development. Blue World City Grand Marketing has developed a strong bond of marketing and development with each other.
Blue World City Islamabad NOC:
Rawalpindi Development Authority (RDA) had issued the planning permission to Blue World City Islamabad against the Vide Letter no. 532/10/DC Dated: 07-08-2018. In the beginning, Preliminary Planning Permission for around 427 Kanal of land was granted to the society.
After some time another application was submitted and NOC status from RDA of the society came in the list of under processing societies.
Blue World City Islamabad Location:
The location of Blue World City Islamabad is situated on the main Chakri Road near Chakri Interchange having direct access from M-2 Lahore-Islamabad Motorway. It is also one of those housing societies that are near Islamabad and Rawalpindi as well as the new International Islamabad Airport.
It is a highly praised community by investors and realtors with beautiful surroundings. It provides a luxurious lifestyle away from the hustle and bustle of city life.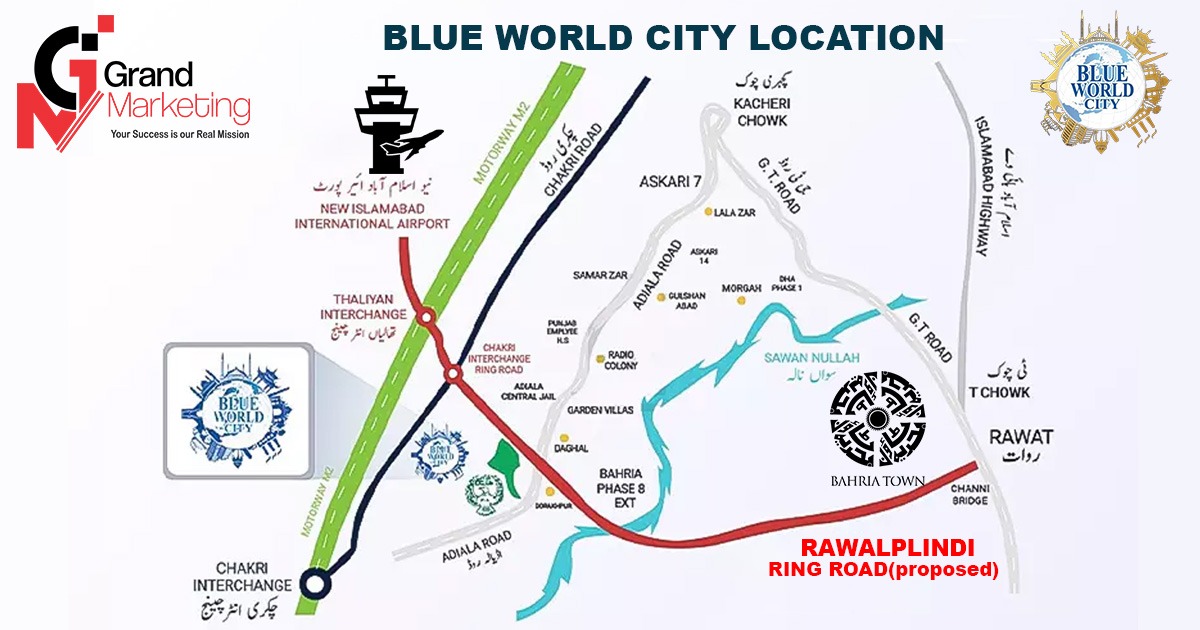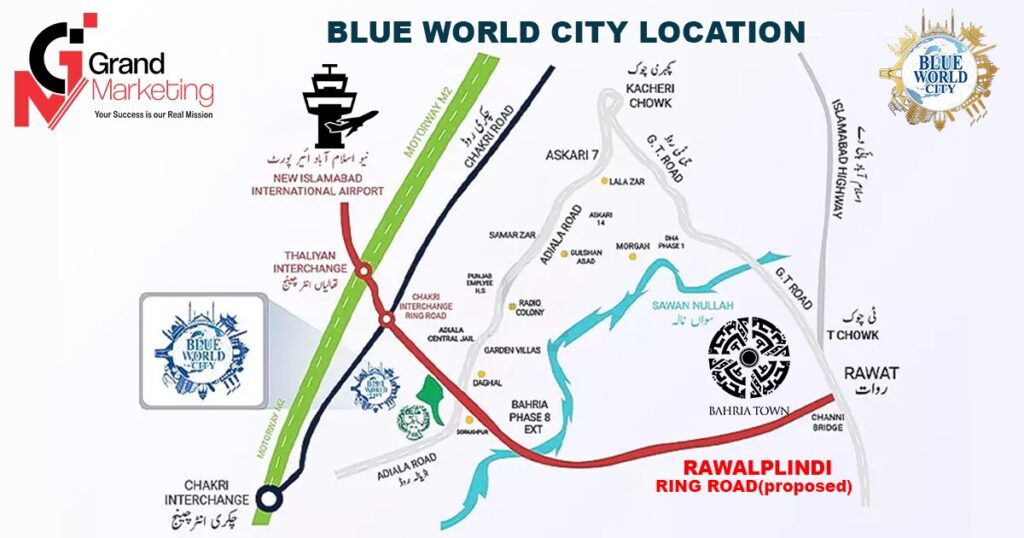 One of the attractive features will be its wide network of carpeted roads connecting all areas of society. Main Boulevard will be 120ft. main roads more than 80ft. and all the streets will be 40ft. wide.
Residential & Commercial Plot Sizes:
Blue World City Islamabad has acquired 5000 Kanal and the whole area will be divided into blocks and plots. 
The Moza of the Blue world city is a village named "Sehal". 
Request for

DISCOUNT

Booking
1st Floor RBS Tower, Business Park, Gulberg Greens, Islamabad, 44000, Pakistan

+92 (331) 111-0900

info@GrandMarketing.com.pk
View our Latest Projects prospectus of
brochure for an easy to know Price Plans on
all of the projects offer.
Blue World City Master Plan
The master plan of Blue World City Islamabad is a well-designed plan created with the help of national and international experts to develop it on the up-to-date principles of Urban Town Planning.
Blue World City site location is very easy to understand and reach by any person. Following is the Blue World City Google Map:
Blue World City to Islamabad distance and Blue World City to Rawalpindi distance is so close that you could reach either of the city in just a few minutes. 
The sizes of plots of residential, farmhouses, and commercial are as follows:
Blue world city Islamabad is a dream housing society for the people of Pakistan. The main attractive feature of this society is that it is affordable and also provides every modern facility.
Society is still in the development stages so the prices are still low. Once, the society is fully developed in 1 to 2 years then the prices may go higher and then these low prices will not be available. Installment payment plans, affordability, and luxurious amenities are the top-selling points of BWC.
So, Grand Marketing highly recommends you avail yourself of this golden opportunity to invest in this society. You may also contact us for the blue world city file price or any kind of blue world city price. Blue World City reviews are beyond the charts.
Let's Get Started
WE ARE READY TO SERVE YOU IN REAL ESTATE.!