University Town is a masterpiece in its surroundings, beautiful natural sceneries and breathtaking view of the Islamabad city adds to the magnificence of the society.
You can compare the ecstatic sceneries of this housing society to Park View City, an RDA approved housing project situated in the Zone IV of Islamabad and Bahria Enclave another prominent housing society with intriguing views but the prices offered in these societies can be rather hefty on the pocket and not in everyone's reach but University Town makes it possible for everyone to be able to afford a comfortable living in the midst of a natural environment and lush green areas.
Beautiful surroundings paired with modern amenities add value not just to this radiant society but to its surroundings as well.
Apart from the opulent location, the investment opportunities in society are endless due to a variety of commercial and residential opportunities and cost-effective rates. It is an ideal place for individuals who want to live and raise a family in a neat and clean environment along with the best facilities.
t is the very first project of Mr. Abdul Aziz Khan, A professor from Peshawar, Pakistan. Although Mr. Aziz has no prior experience in real estate, his efforts in establishing this incredible housing society are commendable.
University Town Islamabad Approvals:
The NOC of University Town has been issued by Rawalpindi Development Authority (RDA) against the no. RDA:RDA/MP & TE/F – PHS – 43/1873 dated 9-5-2006.
This can be confirmed from the official website of RDA.
University Town Islamabad Location:
The vicinity of University town is rather feasible and most fascinating. It is situated on the Kashmir Highway near Lahore-Islamabad Motorway interchange and at only 5 minutes away from the New Islamabad Airport.  The absolute selling point of this society is being located next to the Motorway on Kashmir Highway Link Road right before the toll plaza.
The striking location of this society is not only attractive but also in proximity to Islamabad City, it is only 10 minutes' drive from zero points, Islamabad.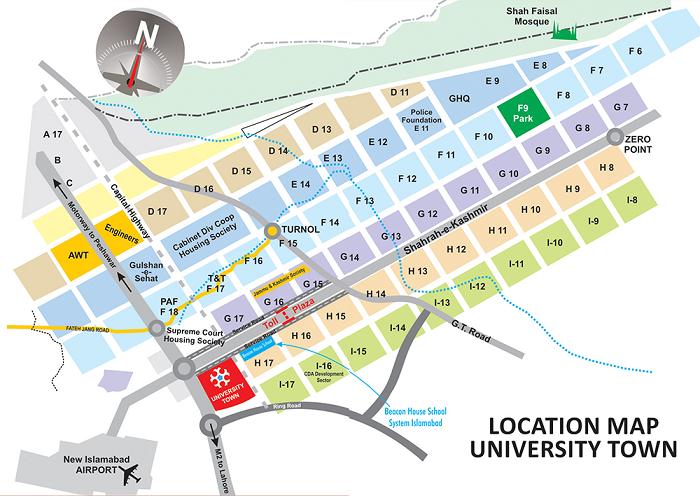 University Town Islamabad Blocks:
University Town has been divided into 6 total blocks alphabetically named A, B, C, D, and E & F for convenience of its residents. Half of the blocks in the housing society are developed while the development work in the other half is on-going.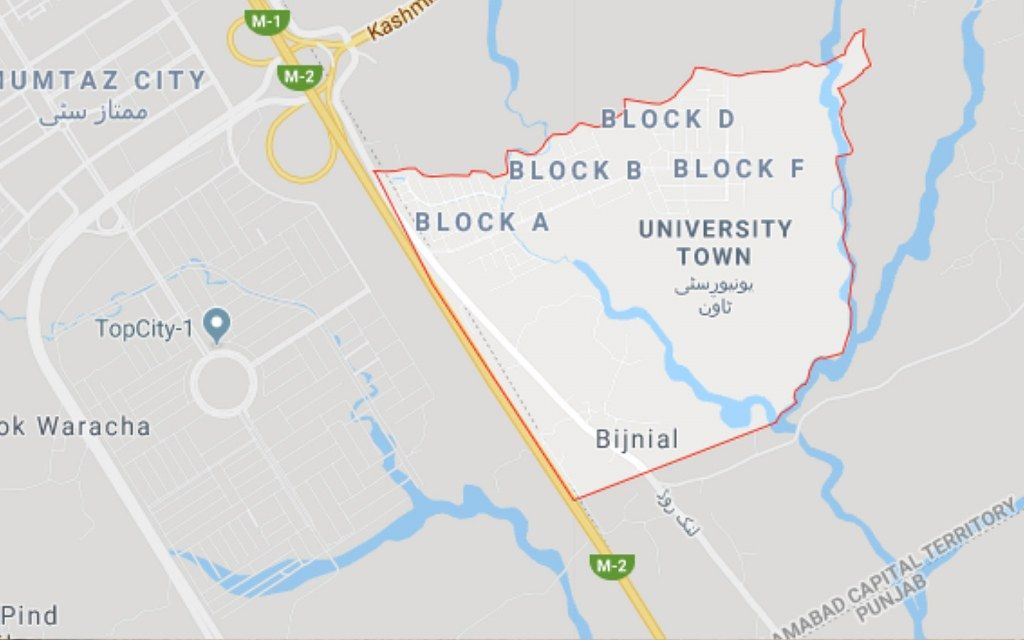 Request for

DISCOUNT

Booking
1st Floor RBS Tower, Business Park, Gulberg Greens, Islamabad, 44000, Pakistan

+92 (331) 111-0900

info@GrandMarketing.com.pk
View our Latest Projects prospectus of
brochure for an easy to know Price Plans on
all of the projects offer.
University Town Islamabad Master Plan
University Town extends over an area of about 4500 Kanals. Most of the plots offered by the society are residential. It consists of 5 Marla, 10 Marla, and 1 Kanal plot. The master plan of the society consists of six blocks (A – F). Society has developed the first three blocks A, B, D, and delivered them to purchasers. The development of the remaining blocks is in speedy progress.
View the University Town Map down below:
Is University Town Islamabad a good investment?
Investing in University Town is safe and secure. The developers have fulfilled all the promises they made. The developer has completed more than 80% of the development work. The town has delivered the plots to its customers in the first phase. The society boasts a good repute among all the big real estate projects of Islamabad.
Affordable Residential Plots and Commercial Properties
The need for good living in the capital is increasing and prices are very high. University Town is an affordable choice for its investors.
The projects around this concept reflect the very meaning of affordable housing. University Town isoffering this possibility near the capital Islamabad. It is about opening up a future both to individuals and to a more diverse community.
University Town Islamabad Future
Real estate prices are soaring in the capital, the rental property market is doing well. Current government policy is in favor of affordable housing. The property options have attracted more and more residents. To aim for a rental yield, it is necessary to target the most popular properties of the city.
Investment in University Town Islamabad allows you to get high returns.  It would offer good rental profitability. The rental is high, especially for small housing units. University Town Islamabad is near twin cities. It makes it all the best investment project.
Let's Get Started
WE ARE READY TO SERVE YOU IN REAL ESTATE.!