Park View City is a CDA Approved, beautiful residential project by Vision Group in zone IV of Islamabad. The housing society has a 400 ft wide Main Boulevard which grants direct access from the highway into the society, furthermore, you can also get access via Kurri Road and Banigala. This housing venture is popular among investors due to its scenic views and high-end facilities.
It is planned to provide a perfect place for families who want to live in a family-friendly neighbourhood and a secure place with a futuristic vision and exquisite views.
The Kingdom Valley is being raised in collaboration with the Naya Pakistan Housing Scheme. The developers are striving to provide an outstanding level of expertise and service at affordable prices.
Park View City Owners and Developers:
Designed by modern architecture and technology by Vision Group, Park View city has become one of the most sought out housing societies in Islamabad. Vision group is owned by Aleem khan, a senior & active member of PTI. This is the first project of Vision Group in Islamabad.
Park View City Islamabad NOC:
The No Objection Certificate (NOC) of Park View City Islamabad will soon be approved by Capital Development Authority (CDA) and developers are putting their full legal efforts to get the approved status. Becoming legal is very important for any housing society because that will grant the society the status of a legal and approved residential area.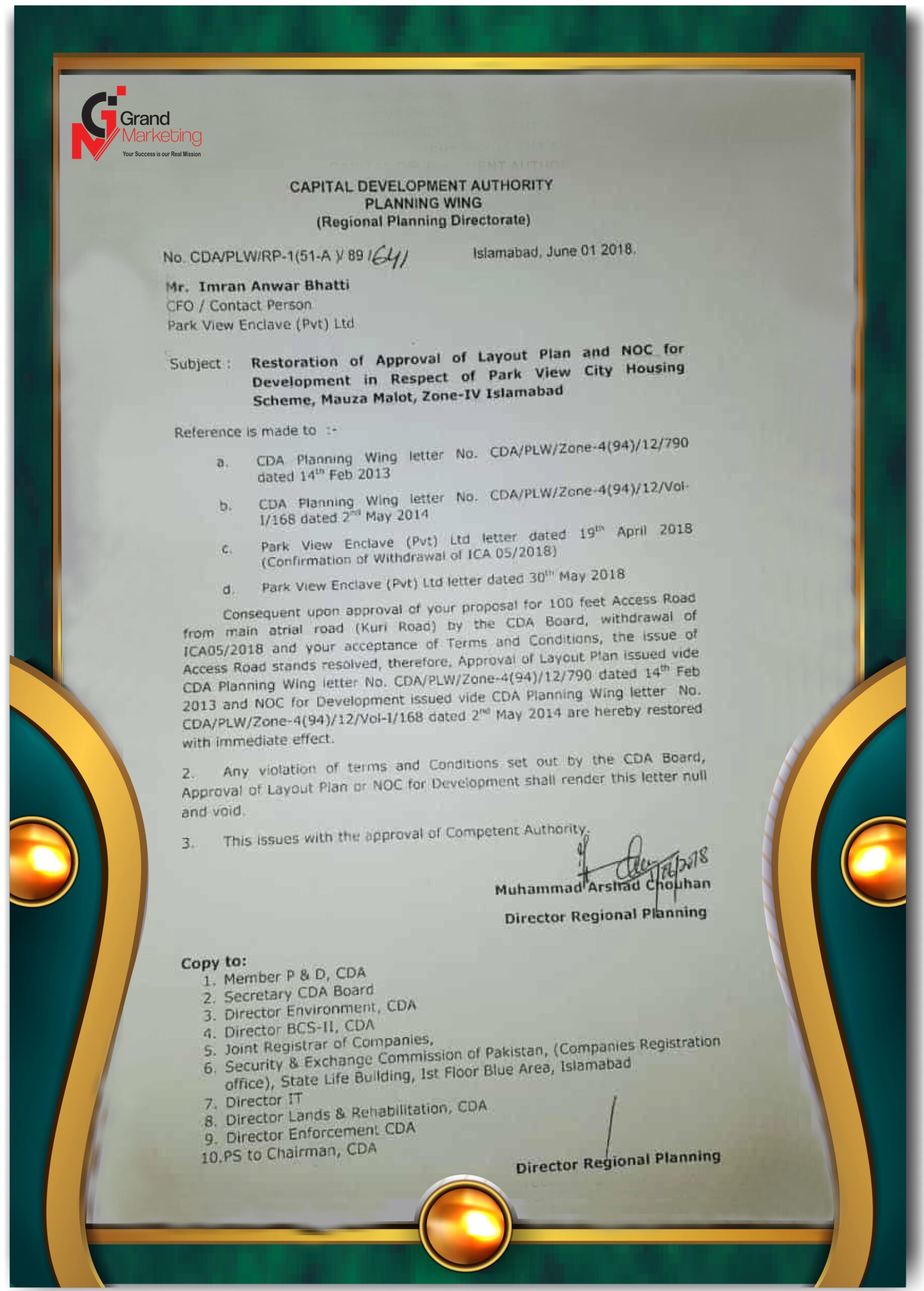 Request for

DISCOUNT

Booking
1st Floor RBS Tower, Business Park, Gulberg Greens, Islamabad, 44000, Pakistan

+92 (331) 111-0900

info@GrandMarketing.com.pk
View our Latest Projects prospectus of
brochure for an easy to know Price Plans on
all of the projects offer.
The overview of society is astounding and after its fruitful execution, Park View will be one of the best social orders in Islamabad. All things considered, Park View appears to be a decent venture opportunity for both investors and the ones who want to reside in it.
Some of the banks such as Silk Bank and Bank Al-Falah are providing home financing schemes for the investors looking to get home loans on easy terms in Park View City as the CDA approval is granted to this society, we would advise you to avail this opportunity and book yourself a secure place in an astounding new project.
Let's Get Started
WE ARE READY TO SERVE YOU IN REAL ESTATE.!